About the Journal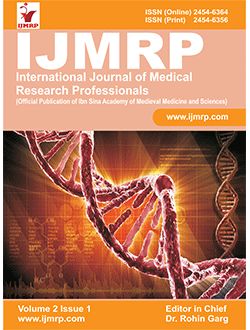 International Journal of Medical Research Professionals (IJMRP)
(An Indexed, Multidisciplinary, Peer-Reviewed, Open-Access, International Medical Research Journal. IJMRP is an Official publication of Ibn Sina Academy of Medieval Medicine & Sciences)
ISSN (online):2454-6364
ISSN (Print):2454-6356
Impact Factor:2.365
Frequency: Bimonthly (6 issues/year)
Publication Manager: Muskan Garg
Volume 02 | Issue 02 | March 2016
Hospice and Palliative Care: A New Movement in India




Controversies in the Early Diagnosis of Diabetic Kidney Disease




Prevalence of Coronary Artery Disease: A Tertiary CareHospital Based Autopsy Study




Relationship of Helicobacter Pylori Infection and Serum Ferritin Level




Personality Characteristics and Quality of Life in Patients with Psoriasis




A Comparative Analysis of Epidural Butorphanol and Fentanyl for Post-Operative Analgesia in Lower Abdominal Surgeries.




Assessment of Awareness, Knowledge, Attitudes and Practices Associated with Eye Diseases in the Population of Aljouf and Hail Province of Saudi Arabia




Early Detection of Multidrug Resistant Tuberculosis Using Genotype MTBDRplus Line Probe Assay in a Tertiary Care Centre, Assam.




A Retrospective Study on Outcome and Management of Antenatal Patients Suffering from Jaundice in a Tertiary Care Centre in Dhanbad




A Study of Association of Fundus Changes in Pregnancy Induced Hypertension




Comparison of Ephedrine, Mephentermine and Phenylephrine for Maintenance of Blood Pressure during Spinal Anaesthesia




Effect of Sympathetic Stimulation on Airway Resistance




Adverse Events in Blood Donors & Adoption of Measures to Reduce Such Occurrence




Estimation of Gestational Age of Fetus with the Help of Fetal Tibial Length: By Real Time Ultrasonography




A Relationship Between Allergic Rhinitis and ABO Blood Group and Related it with Genetics in Population Based Cohort Study in Kut




Spectrum of Renal Involvement in Patients of Obstetrical and Gynaecological Disorders Presenting with Renal Abnormalities




read more..